Specials & Booking
Gallery
News
Floor Plans
Maps
Things To Do
Events
Traveler's Info
Relocation
Welcome to Pelican Point 1 & 2
at Vilano Beach, Florida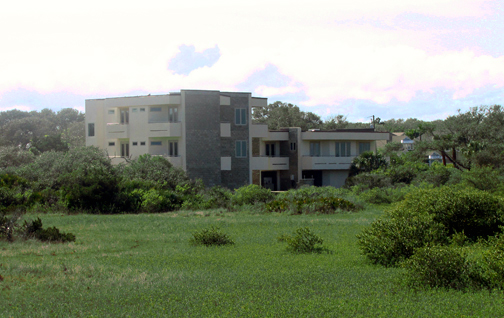 Pelican Point Beach House from Over the Tidal Basin


Pelican Point features modern architecture inspired by William Morgan. Thor Heinrichs, the talented architect, created a truly unique modern set of houses to meet all of your vacation needs. The bold geometric exteriors are eye-catching and sophisticated. The interior is both spacious and comfortable. Why stay in a generic vacation home when you can stay inside a true art form.



Intracoastal Waterway at Sunset



With views of the Tidal Basin, Intracoastal Waterway, and Atlantic Ocean these new beach houses at Pelican Point, St. Augustine give you wilderness vistas just one block from the ocean beach. Elegant and modern, it is a lovely place to spend your best vacation ever.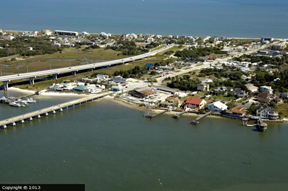 The best thing about Pelican Point is that it is ideal for just about every style of vacation. Whether you bring the whole family or just want an adult getaway, it is amenable for everyone. If you are a sightseer, you are just minutes from historic downtown St. Augustine, with many other attractions a short drive away. If you are a sportsperson, the Intracoastal (ICW) and the ocean await your kayak, boat, surfboard, or swim fins. If you enjoy fishing, you cannot find a better location anywhere, whether for surf fishing or fishing the ICW, ocean or the inlet waterways. You are conveniently located across the street from a softball field, basketball court, tennis court, paddleball court, and a large playground for children. If you enjoy golf, you are in a golfer's paradise with many excellent courses nearby including the World Golf Village, TPC at Sawgrass, and many others.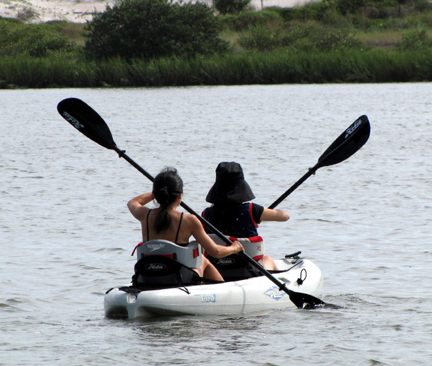 Surf Fishing at Porpoise Point


If you are a nature lover, bring your binoculars, camera, and Peterson's Guides, because the tidal basin is a state bird sanctuary teeming with birds and the ICW is crisscrossed with nature paths. Pelican Point is also a great place to stay during Daytona's Bike Weeks, with 1500 square feet of covered parking your bike and trailers will stay pristine. If you are just seeking quiet rest and relaxation, Pelican Point has multiple balconies for sunbathing in a peaceful scenic environment. The family-friendly white sand beaches are wide and beautiful, and these beach houses are ready to welcome you with luxurious comfort in every room.


Osprey
Picture taken from Balcony at Pelican Point

Beach House Amenities:



Two and Three bedroom houses available.



Indoors

- Great Room, HD TV, DVD/CD Player, Wireless Internet and Desk. 2 Master Bedrooms each with King size beds, HD TV, Spacious Walk In Closets, Showers and Whirlpool Baths. 3rd Bedroom with bunk beds in 3 bedroom house (3 full bathrooms). Fully Equipped Kitchen and Dining Area, Gas Stove and Oven, Dishwasher. Travertine Stone Floors and Wall Baths, and Balcony. Washer/Dryer, Ceiling Fans, Backup Electrical Generator, Free WIFI.



Outdoors

- Barbecue Grill and Patio Table, Dog Park, Softball Field, Tennis Court, Paddleball Court, Basketball Court, Children's Playground.



Within walking distance

- White Sand Beaches, Sunbathing, Swimming, Boat/Jet ski Rentals, Kayaking, Paddle Boarding, Surfing, Hiking, Bird Watching, Fishing Charters, Publix Grocery Store.